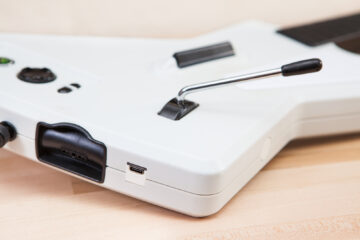 When the sixth generation of video games consoles were released in the mid 2000s, console manufacturers began the process of transitioning from wired to wireless controllers. Both the PlayStation 3 and the Xbox 360 came with wireless controllers but offered wired options for gamers still reluctant to move on from the bulky tethers of yore. Similarly, many 3rd party controller manufacturers were hesitant to switch to the new wireless systems and only offered their controllers with bulky, permanently attached cables.
One such controller is the Guitar Hero X-Plorer, an Xbox 360 rhythm controller made by RedOctane. Modeled after a Gibson Explorer, the X-Plorer was released with Guitar Hero 2 and is still a popular choice today for Guitar Hero and Clone Hero players. It comes with a permanently attached 10 ft. USB cable that is great for playing from the couch, but is long and unwieldy when sitting at a desk.
To solve this problem, I'm going to remove the cumbersome USB cable and replace it with a sleek and modern USB-C jack.
(more…)