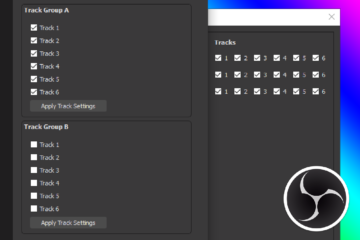 In December of 2020, OBS Studio update 26.1 was released and introduced a brand new feature: the ability to select which audio track is stored in the recording ("VOD") of your Twitch stream. This gives streamers the power to separate audio feeds between what is broadcast live and what is stored for offline viewers. This is particularly useful for streamers who play rhythm games with copyrighted music and are looking to avoid DMCA strikes on their recorded or clipped content.
These track settings are straightforward for those that exclusively stream that sort of content, but doing these changes on the fly can be a pain for those who switch content types mid-stream. You need to open the "Advanced Audio Settings" GUI window, click the check boxes to change the selected audio tracks for the necessary sources, and then close the window.
I wrote a script to make things easier by mapping the audio track options to configurable hotkeys.
(more…)