Just in time for the holiday, I finished work on my replica Reaper mask from the video game Overwatch!
The base of the mask is a wonderful 3D design by Ricardo Salomao, which you can download here.  I wasn't originally planning on building a Reaper mask, but I found this fantastic model and just had to make it.
The mask is made up of 7 pieces, each printed individually out of Hatchbox White ABS.  The pieces were then epoxied together using 5 minute epoxy, the gaps were filled with Bondo, and then everything was sanded smooth.
Once all of the seams were smooth the whole mask was coated with Smooth-On XTC-3D for polish and strength, then sanded again and primed.  For final paint the cheek pieces were masked and everything else was sprayed with an off-white color.  The cheek pieces and the "bolts" on the top of the mask were airbrushed with an opaque black as a base, followed up with a dusting of gunmetal paint.  This was my first time ever airbrushing, and even with the overspray it turned out pretty well!  For depth I also mixed up some gray oil paint, applied it to the cracks and wiped it off a few minutes later.  The mask in the game is fairly clean, so I only wanted to add a little bit of dirt.
For a strap I opted not to use the small built-in holes and instead applied 1″ velcro loop mounts to the inside of the mask.  I then sewed two pieces of velcro to an elastic band.  The mask goes on easily, though it's a bit of a tight fit on the sides of my head with the velcro mounts.  I might switch out the strap mounts in the future.
Behind the mask I'm wearing a Rubie's Costume 2nd Skin mask, and since I don't own a black turtleneck I'm also wearing a black gaiter.  No trenchcoat or shotguns yet!
Happy Halloween!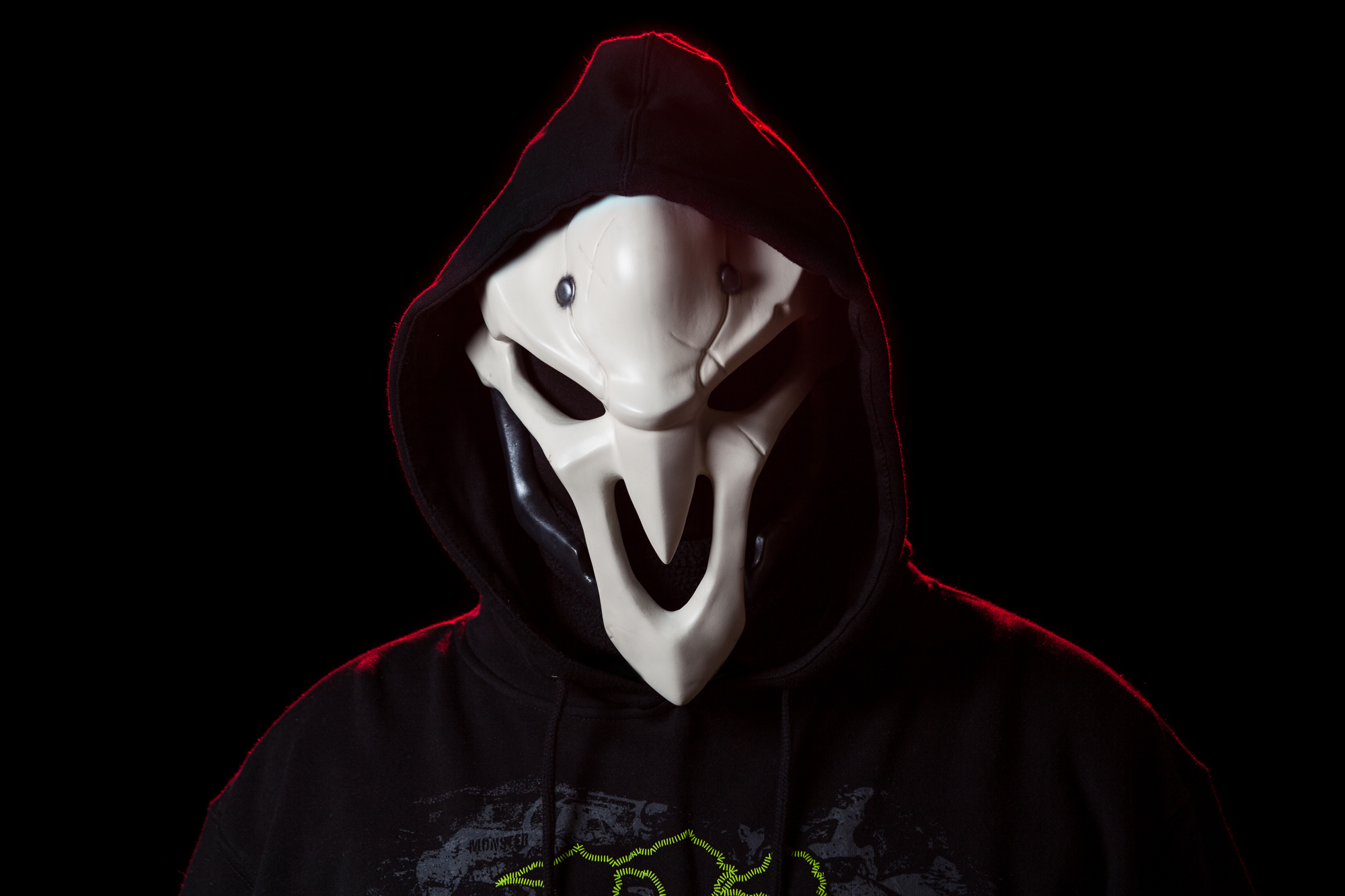 If you'd like to make your own Reaper mask, here is a list of some of the parts and supplies I used. These are Amazon Affiliate links, which help fund this website and my projects. Thanks for your support!
Parts:
Rubie's Costume Black 2nd Skin Mask, Black
Supplies:
Hatchbox ABS- 1kg Spool, 1.75 mm, White

Loctite Heavy Duty Epoxy 8-Fluid Ounces

Bondo 261 Lightweight Filler

XTC-3D Epoxy Coating

Rust-Oleum 249088 Gray Primer

Rust-Oleum 280719 Satin Heirloom White

Createx Airbrush Colors – Black 4oz.

Vallejo Gun Metal Paint, 17ml